June 18, 2012
May 21, 2012
Cat Show's First Live Episode
Well, it 3:20am after recording our first ever live podcast. Tonight's show was the first comedy show Jake and I have ever hosted. Overall, the show went extremely well. It was a fun night and hopefully we'll be bringing you another live episode soon! I can't express how thankful I am to everyone involved. I've wanted to perform stand up for a long time and only recently grew the sack to do it. Now, to have a show to perform for people… I feel like I'm really on the first steps of my career now. I haven't felt this energized for a long time before this podcast came to be.
Thanks to Flapper's Comedy Club for allowing us to have the show and to Lance Paullin, Dave Swan, Jimmy Talarico, Drew Lynch, Taylor Whelchel, James Dueñas, & Aaron Rice who performed (in my best Billy Crystal) marvelously tonight.
I can't say enough how happy/proud I am of this show. Like I said, this was my first time hosting an actual show. When Jake and I started Cat Show, the first goal we set was to record a live episode in a comedy club and give our comedian friends a show to perform at. We never thought that would happen fifteen weeks after Cat Show's inception. 
Cat Show has been more fun to make than anything I've ever made before. It's different week after week. It keeps me creative and has helped improve not only my writing, but my performance too. I've always enjoyed doing voices and now I have an outlet for it. 
Cat Show is also a phenomenal networking device. Give a chance for other comedians or entertainers to come in and have the opportunity to hear what it's like for them in their mutual struggle towards their goals. 
Anyway, here's a link to the episode if you wanna check it out. I highly suggest you do.
May 3, 2012
The Death Star Was An Inside Job!
UNCOMFORTABLE QUESTIONS ABOUT THE DEATH STAR ATTACK

We've all heard the "official conspiracy theory" of the Death Star attack. We all know about Luke Skywalker and his ragtag bunch of rebels, how they mounted a foolhardy attack on the most powerful, well-defended battle station ever built. And we've all seen the video over, and over, and over, of the one-in-a-million shot that resulted in a massive chain reaction that not just damaged, but completely obliterated that massive technological wonder.

Like many Americans, I was fed this story when I was growing up. But as I watched the video, I began to realize that all was not as it seemed. And the more I questioned the official story, the deeper into the rabbit hole I went.

Presented here are some of the results of my soul-searching regarding this painful event. Like many citizens, I have many questions that I would like answered: was the mighty Imperial government really too incompetent to prevent a handful of untrained nerf-herders from destroying one of their most prized assets? Or are they hiding something from us? Who was really behind the attack? Why did they want the Death Star destroyed? No matter what the answers, we have a problem.

Below is a summary of my book, Uncomfortable Questions: An Analysis of the Death Star Attack, which presents compelling evidence that we all may be the victims of a fraud of immense proportions.
Uncomfortable Questions about the Death Star Attack

1) Why were a handful of rebel fighters able to penetrate the defenses of a battle station that had the capability of destroying an entire planet and the defenses to ward off several fleets of battle ships?

2) Why did Grand Moff Tarkin refuse to deploy the station's large fleet of TIE Fighters until it was too late? Was he acting on orders from somebody to not shoot down the rebel attack force? If so, who, and why?

3) Why was the rebel pilot who supposedly destroyed the Death Star reported to be on the Death Star days, maybe hours, prior to its destruction? Why was he allowed to escape, and why were several individuals dressed in Stormtrooper uniforms seen helping him?

4) Why has there not been an investigation into allegations that Darth Vader, the second-ranking member of the Imperial Government, is in fact the father of the pilot who allegedly destroyed the Death Star?


5) Why did Lord Vader decide to break all protocols and personally pilot a lightly armored TIE Fighter? Conveniently, this placed Lord Vader outside of the Death Star when it was destroyed, where he was also conveniently able to escape from a large-sized rebel fleet that had just routed the Imperial forces. Why would Lord Vader, one of the highest ranking members of the Imperial Government, suddenly decide to fly away from the Death Star in the middle of a battle? Did he know something that the rest of the Imperial Navy didn't?
6) How could any pilot shoot a missile into a 2 meter-wide exhaust port, let alone a pilot with no formal training, whose only claim to fame was his ability to "bullseye womprats" on Tatooine? This shot, according to one pilot, would be "impossible, even for a computer." Yet, according to additional evidence, the pilot who allegedly fired the missile turned off his targeting computer when he was supposedly firing the shot that destroyed the Death Star. Why have these discrepancies never been investigated, let alone explained?

7) Why has their been no investigation into evidence that the droids who provided the rebels with the Death Star plans were once owned by none other than Lord Vader himself, and were found, conveniently, by the pilot who destroyed the Death Star, and who is also believed to be Lord Vader's son? Evidence also shows that the droids were brought to one Ben Kenobi, who, records indicate, was Darth Vader's teacher many years earlier! Are all these personal connections between the conspirators and a key figure in the Imperial government supposed to be coincidences?

8) How could a single missile destroy a battle station the size of a moon? No records, anywhere, show that any battle station or capital ship has ever been destroyed by a single missile. Furthermore, analysis of the tape of the last moments of the Death Star show numerous small explosions along its surface, prior to it exploding completely! Why does all evidence indicate that strategically placed explosives, not a single missile, is what destroyed the Death Star?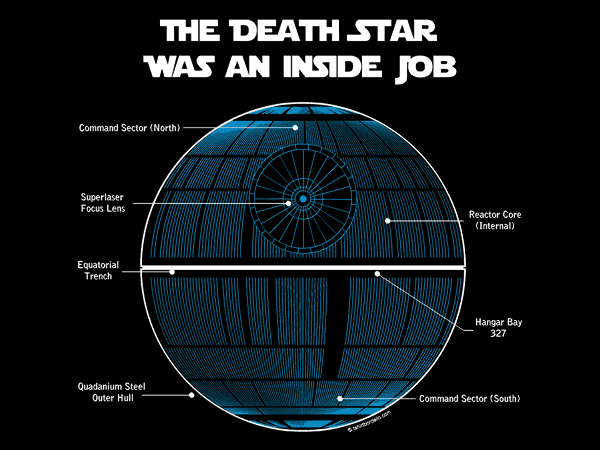 I cannot take credit for any of the above. I read it online and wanted to pass it along to you all. Enjoy.
April 25, 2012
How A Podcast Changed My Life
The last year of my life has been extremely frustrating and at some points pure shit. At the same time, it's because of my frustration with that situation in life that I pulled the trigger on starting a podcast with Jake. 

 Nearly two years ago I finally grew the balls to get on stage and try five minutes of comedy at an open mic. I've wanted to perform stand up comedy ever since I was a kid. I remember listening to Steve Martin & Steven Wright on repeat constantly, listening to every syllable to hear EXACTLY how that joke was told. They were two completely different styles of comedy. Martin, eccentric, energetic, enthusiastic (alliteration, what!?) and Wright was dry, witty and paced, (Bonus points for Wright's album being on CASSETTE!!).
After I got off stage that first time, the comedy bug bit me. Then came a few BOMBS, and a few more and a few more and then I got a job that prevented me from getting stage time and that's when the talk of giving up and utter depression set in. I hated my life so fucking much that I was just ready to throw everything away, but my family and friends were there when I needed them and have pushed me to push myself. They reminded me I came out here for a reason and dammit, I don't care if I have to sleep in my fucking car, I will, so bring it L.A… I'll elbow you in the head and knock you out.
I found ways to perform even with my shitty work schedule and networked and started the Cat Show Podcast with Mr. Jacob Bunney, my roommate and the comedic Yin to my Yang.
We had no fucking clue what we were doing when we started the show 13 weeks ago. For 13 straight weeks we have been putting out an entire hour long (sometimes longer) show. We write/voice/edit/produce everything related to this show and in just ELEVEN weeks of doing this show we were bestowed the honor of recording a live version of our podcast at Flappers Comedy Club in Burbank, one Sunday a month, starting May 20th!
We didn't know starting out what would happen, how long things would take to get going and if we could get guests on each week, but we have and we have the entire month of May booked for interviews. Every single guest that has been on our show has been great to chat with. It's been great to get to know new people and what drives them in their lives. 
The live show will be booked with comedians that have been guests on our podcast and we'll even have some musicians perform as well. It's going to be a lot of fun, so come check it out May 20th at 9pm at Flappers Comedy Club in Burbank! (/plug)
Cat Show has also helped us perform outside the open mic environment, in actual shows, and I couldn't be more thrilled. Comedy isn't just something I want to do, it's a passion of mine. Making people laugh is what drives me.
Anyway, sorry for all the sappy shit. I'm gonna go back to brooding. 
April 18, 2012
February 26, 2012
CAT SHOW!
February 26, 2012
Beginners! Heed this advice and come down for Open Mic Tonight at 7 pm - sign-up at 6.
(Source: sirmitchell)
February 26, 2012
Latest Episode of Jake & I's Podcast
Hey everyone, click here to listen to the latest episode of Jake and I's comedy podcast, Cat Show Podcast! Episode III - Porn Oscars
In this episode we feature guests Drew Lynch and Andy Dugan. We talk about a wide range of topics from high alcohol content beer (which we taste on the show) to Jeremy Lin and the Oscars!
My co-writer/producer/host Jacob Bunney and I record one episode a week and we like to feature other entertainers as well. So if you're  a comedian, actor, actress, writer, director, musician, and would like to be a guest on Cat Show, shoot us an email at catshowpodcast@gmail.com!
Follow us on Twitter. @CatShowPodcast 
"Like" us on Facebook
Or Subscribe to us on ITunes! Search the ITunes store for Cat Show Podcast and subscribe to us for free, that way you can listen to our sexy, sultry voices wherever you go! 
January 31, 2012
Cat Show Episode I - Killer Ads.
Cat Show! is a podcast created by Jacob Bunney and Dean Richards. Our first episode features our research assistant (porn collector) J.B. Bobo.
September 18, 2011
I haven't blogged in a while. I don't know what I should say. This video sums up everything going on in my life right now. 
— President Barack Obama on the killing of Osama Bin Laden

ANGRY #1

So, before I moved, I got to have one last dinner with family. It was at a Hibachi style restaurant. We ended up getting a random there...

Of Bus Tickets, MTV Interviews, Broken Phones, & Geeky Friends.

Hello Hello everybody!

What a crazy day I had today, and because I promised to share...

Feeling Accomplished :)

After a long all-nighter, I finished my Demo Reel. For a first one ever it's not too shabby. I'll post a like to it on here...